Barrack Hill Town Park, Carndonagh, Co.Donegal

18 October 2021

Monday, 11:00 AM to 12:30 PM

Rachel Grant
ECO Carn Biodiversity Action Plan Launch
Monday, 11:00 AM to 12:30 PM
18 October 2021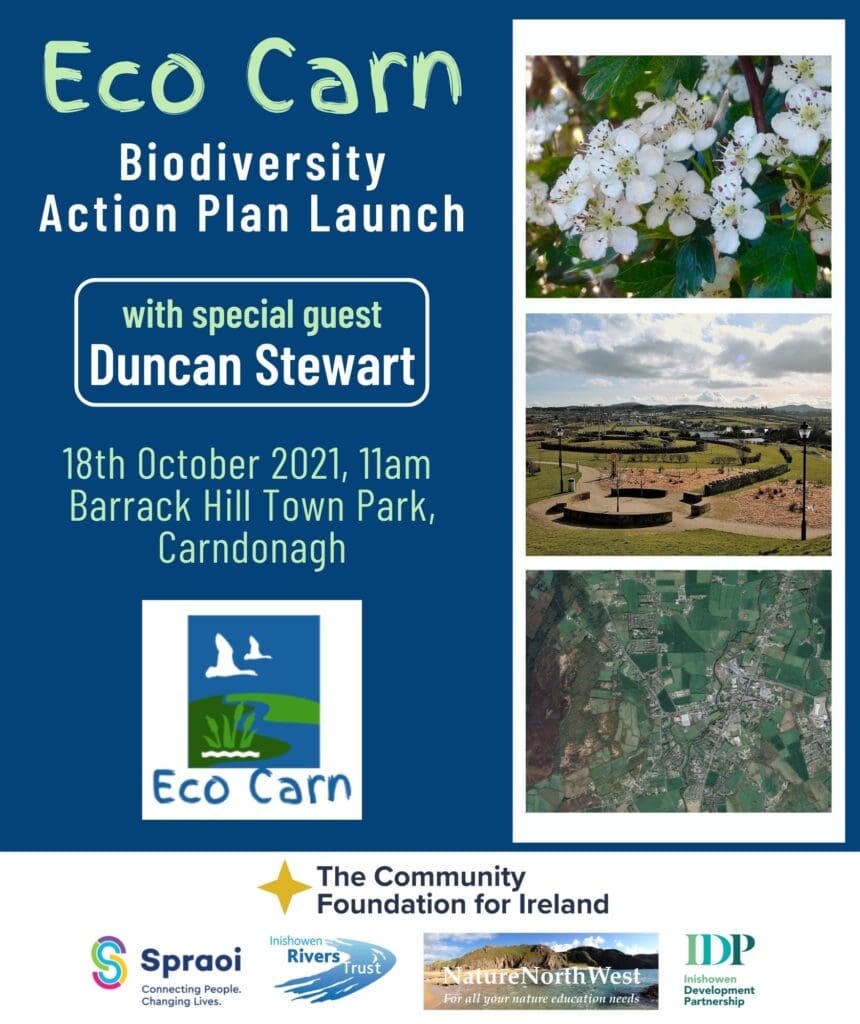 ECO Carn, a collaborative network formed in 2019 following Inishowen Development Partnership's "EnVision" series, will launch a Biodiversity Plan for Carndonagh 2021 – 2026. The work was funded by The Community Foundation for Ireland, who are supporting communities across Ireland to develop community biodiversity action plans.
To officially launch the plan, the network is delighted to welcome award-winning architect, environmentalist & film producer/presenter and a familiar face to all, as presenter of RTE's 'Eco Eye' and 'About the House, Duncan Stewart, as their special guest speaker at the outdoor event at 11AM on Monday, October 18th, at Barrack Hill Town Park.
The ECO Carn network is very excited about the BAP launch as it is the culmination of two years work. Our groups have been working to protect and extend the natural biodiversity of our wonderful community resource in the park but now we will have a blueprint to follow designed by Aengus Kennedy and Trish Murphy, two inspirational environmentalists.
The key recommendations from this report are to connect species-rich sites, creating natural corridors for biodiversity and communicate the actions of this plan, creating awareness and understanding in the wider community. This will be implemented in forty-three general actions, proposed across seven recommended themes plus an additional 102 measures across the six audited areas. Some examples include invasive species management, hedgerow maintenance and restoration, wetland and pond creation, 'No Mow' periods, sensitive development of future trails and paths and a coordinated programme of informing and involving the whole community.
ECO Carn Members are: Spraoi & Sport, Barrack Hill Community Garden, Barrack Hill Town Park, Carn GAA, Carn Tidy Town, Carndonagh Scouts, Donegal County Council, Inishowen Environmental Group, Carndonagh Community School, Colgan Hall, Colgan Heritage Group, Carn Men's Shed, Forest of Carndonagh, Inishowen Development Partnership and the local primary schools.
Registration is required for this event, through the link below….
https://www.eventbrite.ie/e/eco-carn-launch-tickets-183425930897