IDP takes the lead on new environmental scheme that will reward farmers
A NEW results based agri-environment scheme will bring the opportunity for local farmers to continue to supplement their income while protecting the environment, according to one of Inishowen's leading farming groups.
Henry O'Donnell of the Inishowen Uplands European Innovation Partnership project outlined the detail of the government's new agri-environment scheme – Agri-Climate Rural Environmental Scheme or ACRES – which was announced by the Department of Agriculture this week.
The scheme essentials rewards farmers for having good environmental practices on their land and incentivises improvements, with grants ranging from €5,000 to €10,500.
In Donegal, Inishowen Development Partnership will be rolling out the scheme on behalf of the Dept. of Agriculture, in partnership with Inishowen Farm Innovations, who are the managing entity of the Inishowen Uplands European Innovation Partnership project, Inishowen Rivers Trust, DLDC and Birdwatch Ireland.
IDP will also be working closely with a broad range of stakeholders to develop the scheme for farmers in Donegal.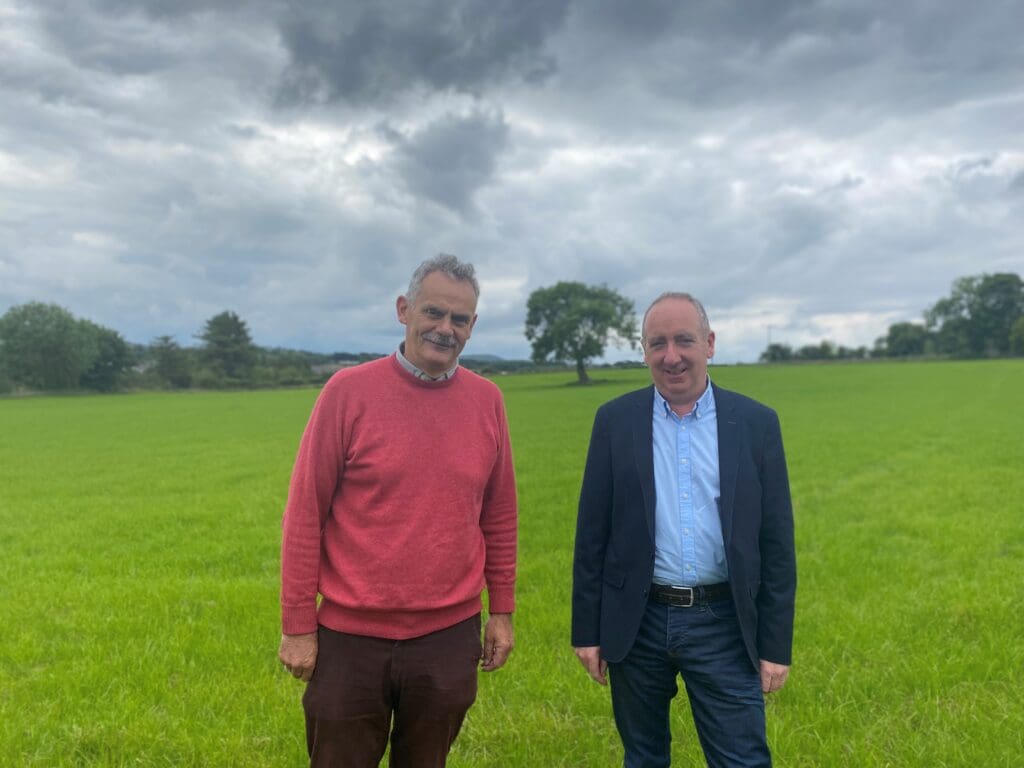 Andrew Ward, joint CEO of IDP, said they are delighted to be leading the project. He said ACRES stands for everything that IDP believes in and he feels the project will grow year after year.
"We are delighted to be on this project and working with Inishowen Farm Innovations and the other stakeholders," said Andrew. "This is being run by the locally led department within the Dept. of Agriculture – it is a bottom up response to the environmental challenges we are all facing and IDP are fortunate to be a part of that. "This is what IDP is about – protecting the environment, improving biodiversity and water quality, working with the community – it is a mainstream environmental project and I think it is only going to grow."
Meanwhile Henry O'Donnell believes the scheme could be a lifeline for some farmers in Inishowen.
"This is based on the environmental quality of your land and the results based scoring and possible actions can mean an annual payment of up to €10,500," said Henry.
"Farmers will be paid to carry out Non- productive investments (NPI's) on their land which provides support to improve habitats, water quality and hedgerows on your land. There will also be the option for cooperative measures to further increase your payments. It also gives every farmer assistance and support to deliver on the environment objectives and manage the environmental priorities in the area they are farming. Every farmer will engage with the project team and their advisor who will help them to develop a farm sustainability plan for their farm."
The online portal is now live for the ACRES scheme where farmers can see if they are in the general or Cooperative scheme or their adviser can check for them. Farmers will be able to identify the ACRES approach for which they are eligible by logging on to the department's online system www.agfood.agriculture.gov.ie however the scheme is not due to begin until January 2023 when the new CAP scheme begins.
There are large parts of Donegal which fall under the "co-operative approach", which crucially results in farmers having the option to adopt more measures and receive higher payments. These are farms that are in areas of high environmental priority. Only 20 per cent of your land, or three hectares have to fall into the 'co-op' area for a farmer to qualify for the 'co-operative approach. These are mainly upland or coastal area.
Alternatively other farmers will fall into the 'general approach' offers a maximum payment of €7,311.
The €1.5bn scheme aims to target 50,000 farmers throughout the country and is the biggest investment by an Irish Government into an agri-environment scheme.
Minister for Agriculture, Charlie McConalogue TD described it as 'an exciting time' for farm families, who are interested in biodiversity.
"This is a famer-friendly scheme that will help address the biodiversity decline while delivering an important income support for up to 50,000 farm families," said the Donegal Minister. "Farmers have been playing a significant role in the protection of the environment and enhancing biodiversity through their participation in agri-environment schemes down through the years."