One social enterprise who agrees with Dr. Forde's synopsis is Susan McAleer manager of Greencastle Community Centre.
IDP's ARISE project shines a light on positive work being done by ISEN
IT was lights; camera; action in Malin Head last Thursday evening as the key stakeholders in the Inishowen Social Enterprise Network gathered together for the ARISE video launch.
The ARISE [Awareness Raising Initiative for Social Enterprises] project has produced a range of videos shining a light on the positive work being done by social enterprises across Inishowen.
The Inishowen Social Enterprise Network [ISEN] comprises of 20 different social enterprises made up of community groups, tourism, arts and cultural groups, all working as to support their local community, filling many gaps in services and supports. Some in the network are fully voluntary-run operations. Inishowen Development Partnership facilitates the network and hosts meetings to share information and funding opportunities for the social enterprises.
11 of the 20 social enterprises in Inishowen took part in the video project, which was recorded and produced over the course of four months by videographers Startacus. The grand premiere, which included speeches from Dr. Andrew Forde from the Department of Rural affairs and community Development and Minister for Agriculture Charlie McConalogue – went off without a hitch on Thursday night.
Speaking on Thursday night in Ireland's most northernly social enterprise – Malin Head Community Centre – IDP joint CEO, Shauna McClenaghan, described the evening as a 'great occasion' to celebrate the valuable contribution that social enterprises bring to our area, across social, cultural, environmental, and family services, constantly reinvesting in the community.
Similarly, IDP and ISEN chairperson Helen Nolan said the ARISE project, which was funded by the Government's Dormant Accounts Fund, has been a wonderful opportunity to celebrate the added value that social enterprises bring to our economy.
"A social enterprise creates employment and opportunities for those most marginalised from the workforce, transforming communities and addressing challenges such as gaps in provisions and opportunities, food poverty, social housing, tourism initiatives or environmental matters," said Helen.
"However unlike other enterprises, for social enterprises everything is reinvested back into common good and communities."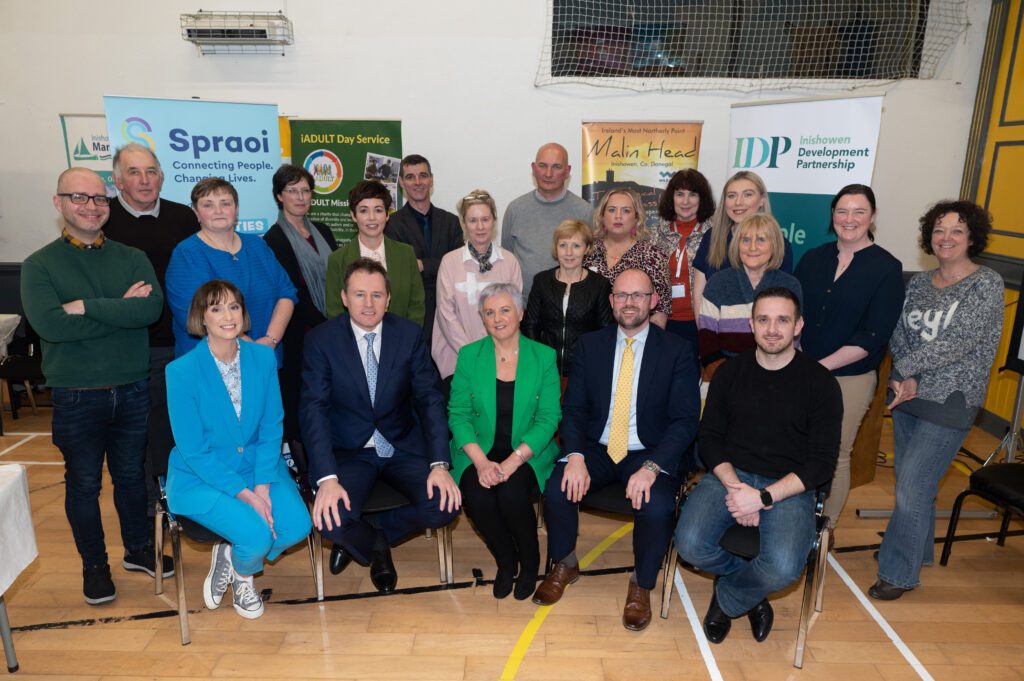 Dr. Andrew Forde from the Department of Rural Affairs and Community Development, congratulated social enterprises in Inishowen, describing the peninsula as a "hotspot for social enterprises in the country.
"Inishowen is a brilliant example of a social enterprise hotspot in Ireland, leading the way in demonstrating the importance of the sector for communities in rural Ireland by creating jobs, providing services and generating social and environmental impact," said Dr. Forde.
"Social Enterprises are businesses for social good. They work primarily to improve the lives of people, and their core objectives are to achieve social, societal, or environmental impact. They operate like other businesses but profit is re-invested into achieving their core social objectives.
"As Ireland moves towards a greener, more socially inclusive future, social enterprises are going to play a critically important role, particularly in rural areas," he added.
"Our social enterprise has a profound impact on our Community. We are able to offer a wide
range of activities and services all under one roof, in a rural location. We are a one stop shop
for a range of community projects and would proudly consider ourselves the hub of our
Community," explained Susan
"I think for us as a Community Centre, being a social enterprise is of vital importance. It means re-investing every penny that we make back into the Centre and back into our community."
Susan and the team were delighted to have been selected to take part in ARISE and they are excited for the opportunities it may present them in the future.
"We welcome any opportunity to showcase the important work that we do within our Community and participating in the ARISE project has been invaluable to us," said Susan.
"Working with the fantastic team at 'Startacus' we were able to create a modern and professional video and blog which we hope will promote our activities and services even further".
Minister McConalogue formally launched the videos that evening, sharing as other speakers had done, his admiration for the work across the sector, and its role and impact in support and sustaining communities in Inishowen.