SIBLINGS of children with special needs in Inishowen are being offered the opportunity to come together in a safe space to share their concerns and learn vital coping strategies in a holistic way.
The S TEAM is a new pilot initiative by Inishowen Development Partnership in Buncrana under Sláintecare Healthy Communities Team, that will support the siblings of children with special or additional needs.
Taking place in the Buncrana Youth and Community Centre every Friday afternoon for nine weeks, beginning on November 3rd, the S Team is open to children aged between 8 and 12 years of age and it offers a fun safe space to meet peers, share and learn from one another and build friendships while like minded children.
The S Team is the brainchild of Sláintecare facilitator Jacqueline Culligan who developed the unique programme after her first-hand experience of being a sibling of a child with special needs.
Jacqueline, who has more than 20 years' experience of working in childcare and has been involved in IDP programmes such as Rainbows, will now facilitate the course along with IDP Family Support Worker Alison Bardini.
"I have a wonderful sister who was born with Downs Syndrome," said Jacqueline.
"I feel I can relate to the mixed emotions siblings carry around with them – they worry about their sibling, they worry about their parents, they see their siblings struggles and their parents' tears and worries. But they never talk about it – they never express their own worries as they can often have a feeling of guilt."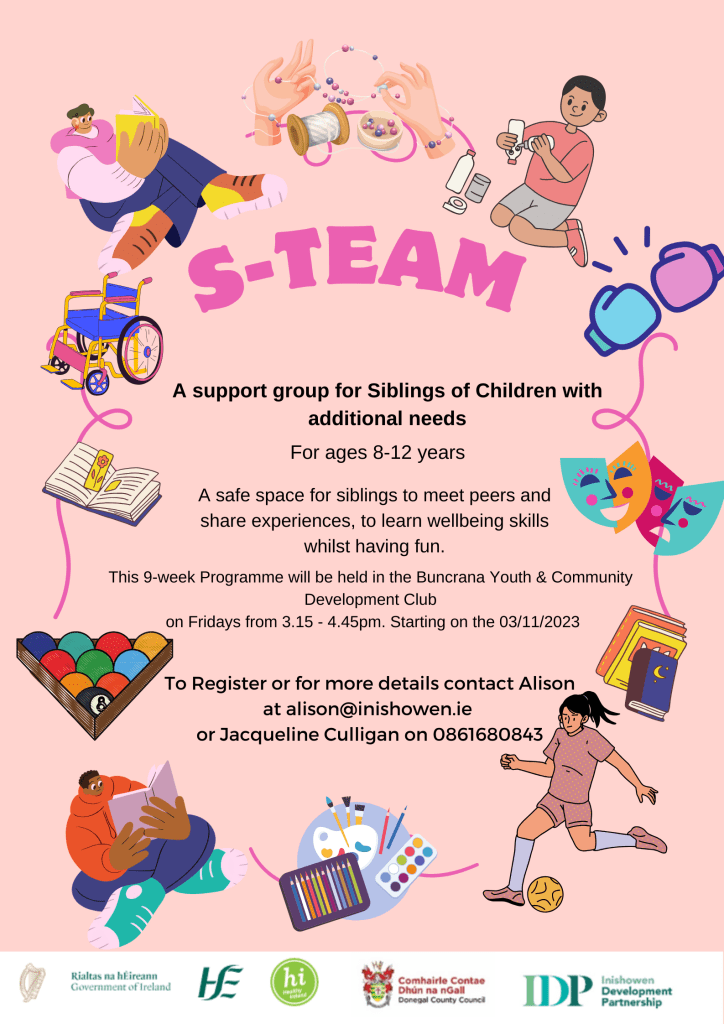 Jacquleine and Alison hope the S Team will provide the safe space for this young people ot express these worries and vent their concerns without being judged.
"Growing up with a brother or sister who is disabled or who has special educational needs siblings tell us they feel all the usual stuff – loyalty, care, empathy, rivalry and love having fun together," said IDP Family Support Worker Alison.
"But sometimes when one sibling is disabled these feelings may be more intense and they might need a break away or to simply 'press the pause button'. S-Team can be the place for that. Some ordinary 'me-time' without feeling bad or guilty."
As well as providing a space for children, the S Team will be child lead, and no one will be forced to speak about their emotions or feelings. Instead, the team will equip the children with well-being skills, anxiety techniques, stress-strategies, promote relaxation through Mindfulness and breath work all whilst having fun in a safe environment to promote a sense of belonging.
There will also be activities such as arts and crafts, baking, pizza making, drama, singing and games.
"Nine times out of team a lot of siblings are coping well, however if we provide this space, it might give one child the opportunity to vent and help them deal with these emotions it'll be good for me," said Jacqueline.
"I wouldn't change a single thing about my sister, and I know most of these siblings would say the same. But they will have a lot of mixed feelings and they need to be recognised and this in turn will equip them with important skills are they move into adulthood."
The S Team will get underway on 3rd November in the Buncrana Youth and Community Centre at 3.15pm. Limited Places are available for children aged between 8 and 12. To find out more information or to register your child email alison@inishowen.ie or call Jacqueline on 086-1680843