Nine New Non-Smokers in Inishowen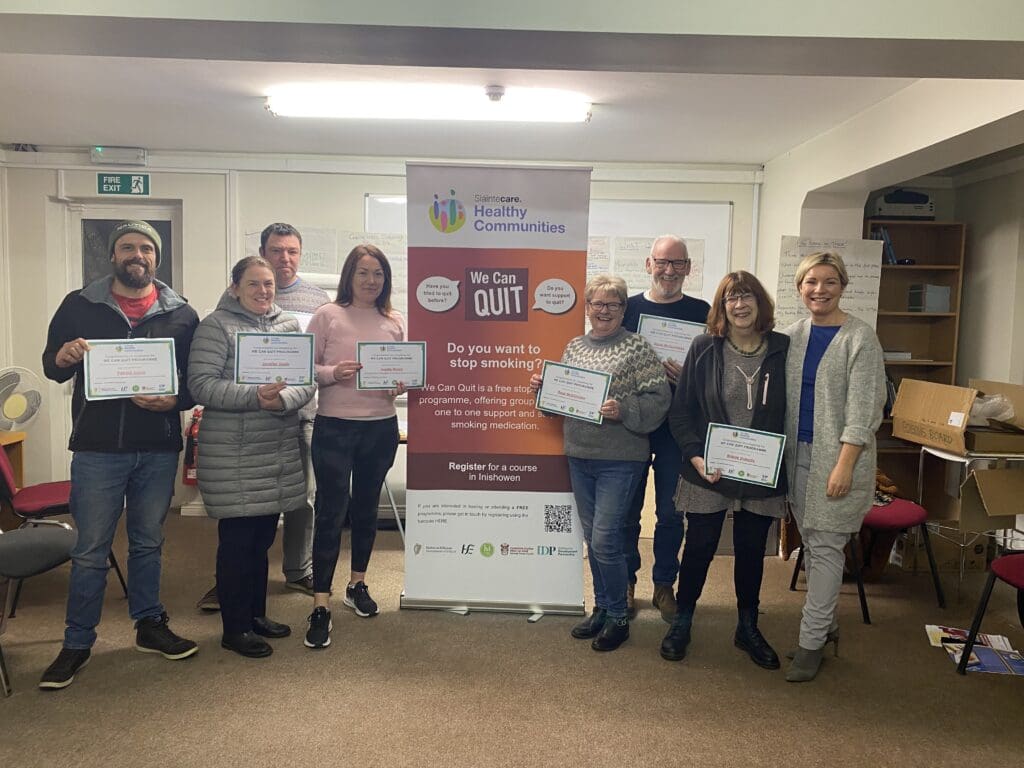 There is great cause for celebration in Inishowen this week as it sees the completion of the first "We Can Quit" programmes with the fantastic news that nine participants were successful in quitting cigarettes since the first programmes started eight weeks ago.
We Can Quit – a FREE stop smoking programme was delivered by Inishowen Development Partnership and funded by the HSE under Sláintecare Healthy Communities which was officially launched in Inishowen at the end of November. We Can Quit is a community and peer-led programme made available to adults living in Inishowen, who wanted to quit smoking or vaping. It follows the standard treatment programme for smoking cessation but takes a more holistic approach in our local community, that will further support individuals on their quit smoking journey and will help sustain long term quitting success.
Leanne McBrearty, Community Facilitator, says, "we are truly delighted for each person who took part, and it was a real privilege to facilitate them all through the We Can Quit programme. We had great engagement throughout from the group, and the eight weeks flew by! There was a great atmosphere of peer support within the weekly group meetings, and we stayed in regular contact throughout the week with each participant to offer ongoing support to help the participants stay on track and reach their goal".
Patricia Lee, IDP Sláintecare Team Lead adds, "We are so pleased with the response in Inishowen to the We Can Quit programme, it really has been such a great success. Minister Frank Feighan, (Minister of State for Public Health, Wellbeing and the National Drugs Strategy) visited the peninsula just a few short weeks ago to officially launch Sláintecare Healthy Communities in Inishowen and it is wonderful that we are already seeing the huge, tangible benefits of the various Sláintecare programmes available through IDP. The impact of We Can Quit, which has nine successful stories, shows a clear investment in the health and well-being of our community living here in Inishowen."
The programme was delivered by IDP Community Facilitators, Sheila Keyes, Alison Bardini and Leanne McBrearty and has received great feedback from those who took part; "The programme has helped me to finally stop smoking!", "It really helped me to get off and stay off!", "It was very supportive to have like-minded people in the group to share experiences with", "This has helped me to become a non-smoker", "I would say to anyone who wants to stop smoking to 100% make the call", "I learned so much more about the dangers of smoking", "Great group, everyone helped each other", "To be smoke free is great, I could not have done it without the group".
Inishowen Development Partnership will be delivering further "We Can Quit" programmes in 2023. All participants of the We Can Quit programme will be offered weekly group sessions, one-to-one support, and FREE Nicotine Replacement Therapy (NRT) and is suitable to those who use cigarettes/e-cigarettes/vaping.
CLICK HERE if you are interested in starting your quitting journey or call IDP on Tel: (074) 9362218 or email quitsmoking@inishowen.ie to find out more.