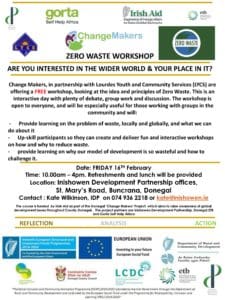 This is an interactive day with plenty of debate, group work and discussion. The workshop is open to everyone, and will be especially useful for those working with groups in the community and will:
– Provide learning on the problem of waste, locally and globally, and what we can do about it
– Up-skill participants so they can create and deliver fun and interactive workshops on how and why to reduce waste.
– provide learning on why our model of development is so wasteful and how to challenge it.
Date: FRIDAY 16TH February
Time: 10.00am – 4pm. Refreshments and lunch will be provided
Location: Inishowen Development Partnership offices,
St. Mary's Road, Buncrana, Donegal
Contact : Kate Wilkinson, IDP on 074 936 2218 or kate@inishowen.ie